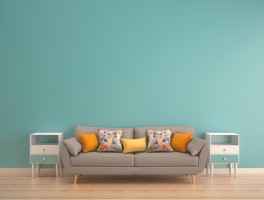 These days with the amount of cheap furniture available, we discard more furniture than ever before.
While some people rescue a few pieces and use the remains to create something new or fix them up, a lot of it disappears into landfills. What many people don't realise is that by buying better made and sustainable furniture, you may pay more in the short term, but it will last you much longer, working out to be a better value investment all round. It is also much kinder to the environment.
Here are some reasons why buying custom-made furniture is better than buying in store.
Get what you want
Instead of buying furniture that you think best suits your requirements, you can order exactly what you want to suit your home or office. Want a massive double bunk bed for your kids' bedroom? You got it. Want a modular couch that fits perfectly into the corner of your living room, no problem.
1. Maximise the space in your home or office
When you have limited space, or even if you don't, buying custom-made furniture will help you make best use of the available space you have. Custom designed and manufactured furniture can make any living or working area more productive and comfortable to live or work in.
2. Unique pieces
Buying custom-made furniture means you get your own unique once-off furniture. Get as creative or as wacky as you want. You are only limited by your imagination and your budget. The end result can be a classic piece, or a once-off work of functional art.
3. Longer lasting – better quality
Custom-made furniture is generally made with better quality wood. You can decide what you want, and using locally grown, high quality sustainable wood will ensure a quality piece of furniture that will last you a lifetime. This results in less furniture being discarded to dump sites.
4. Support good craftsmanship
When you buy custom-made furniture, you are buying a product made from a master craftsman. It will be meticulously made by someone who is passionate about his/her craft and sees each piece as a work of art. This is a far cry from production line furniture, which often never sees any handiwork performed on it at all.
5. Good Investment
Even if you outgrow your custom-made piece, there will always be a market for unique high-quality furniture. You might even turn a profit on it. Either way, it will probably be bought by someone who appreciates artistic, functional furniture as much as you do.
6. Support small businesses
When you buy handmade pieces, you support small businesses and bypass the global chain stores that usually dominate the furniture market. You make a stand for quality, design, attention to detail, and you are saying no to production-line products.
If you are looking for something different, something that has been handcrafted by a master craftsmen who loves his work and treats every piece like a work of art, contact Perth's furniture specialists for furniture with a soul and not just a price tag.