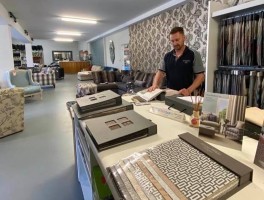 Dear Perth,
It's Carl and Michelle here, owners of Argyle Furniture Designs. Perhaps we've met in-store before; maybe we haven't yet had the pleasure. 
This is just a quick message to touch base while we're all adjusting to these new but hopefully temporary circumstances. We hope you're all safe, washing your hands, sneezing and coughing into your elbow and staying home if you're feeling unwell. 
All is well here in the store. We've stepped up our cleaning, making sure to disinfect our hard surfaces regularly and our staff are all taking care to mind all preventative instructions of Healthy WA. 
Mostly, we want you to know we are still open for business. Let's face it; we're all about to be spending a lot more time inside for the time being so now might be the perfect time to update your furniture. If you are able to, why not come down to our store or Carl will come out to you and have a chat about the furniture and services we have available.  
If you've got a lounge,Modular,dining chairs any upholstery that's not as comfy as it once was, we can fix it up and fit new padding, stuffing, springs and webbing as needed. If you've got older furniture that just needs a new lease on life, we can upholster it in a new fabric to update your whole space. 
We'll leave you with one final thought, with all this uncertainty, community is what will get us all through—individuals and small businesses alike.  
Yours Sincerely, 
Your local small business