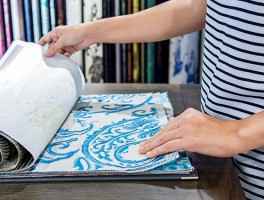 As the days get longer, the nights shorter and the mercury continues to rise, we all get excited by what summer brings. There's so much to look forward to, long days on the beach, hot summer night barbecues and entertaining friends around your pool. The problem is that your tired old furniture is desperately in need of replacement, and you're a little embarrassed to invite people round. The solution is to reupholster your tatty furniture, make it look like new again, then start partying it up. Here are some tips on how to revamp your old furniture, giving you 'brand new' furniture at a fraction of the cost of buying it new.
The correct materials to use
The first thing you need to consider for your furniture's summer makeover is the fabric you want to use. It's for the outdoors so go for something light and summery while ensuring that any fabric you use is hardy and waterproof. This is even more important if you have a swimming pool. The material will need to be strong enough to withstand all types of weather, while being comfortable to sit or lie on at the same time.
Acrylic is one material which works well outdoors as it is naturally water-resistant and durable, although the colours will fade after many hours exposure to the sun. Using acrylic that has been treated with a dye solution is better for those items that are more permanent, difficult to remove and don't need to be washed that often.
Colour
As this furniture will live in the sun or at least get plenty of it, you want it to be lightly coloured so as not to overheat and become uncomfortable to sit on. Choose colours that match your home's style while making a statement of its own at the same time.
Get creative
Once you have decided on the type of fabric you want, start searching the web for creative ideas for your outdoor area. You want it to match your home's exterior, complement your interior and make for an amazing, separate but connected living space in your home.
The frame
If you are going to reupholster then you might as well repair (if necessary) or renew your frame at the same time. Sand it down and give it a few coats of waterproof outdoor varnish or paint, throw on your new cushions or covers, and you have a new piece of furniture or an entire set once you are done. Or let the professionals do it.
Do it yourself?
Not that many people are good at doing this kind of thing. Reupholstering furniture is not like changing a plug. It is a skilful trade and one that requires skilful tradesmen. Make sure you work with an established company with an excellent portfolio. Ask to see samples of their work. Do a price comparison amongst a few companies before committing to any one of them.
Look after your furniture
First of all make sure you use you furniture like it's supposed to. Look after it but live on it as well. Don't be precious about your furniture, it's a waste. But do your best to maintain it in as good a condition as you can. Move it inside if you can during the winter months and clean spills and dirt marks quickly. It won't require a lot of maintenance but a little will go a long way to preserving your 'new', reupholstered summer furniture.
Give your tired old furniture a complete summer makeover at a price you can afford.