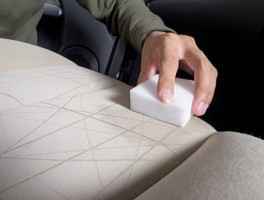 Upholstered furniture is not only functional, but with the many varieties of fibres, colours and styles available in today's market, it can also improve the aesthetic quality of your home.
However, its original condition can quickly deteriorate if you don't look after it, making it appear grubby, old and tired. Furniture is not cheap and most of us cannot afford to keep replacing it. The good news is you don't have to.
This blog is going to look at how, with a regular maintenance routine, you can keep your furniture looking great for many years to come.
Prevention
During the manufacturing process, many pieces of upholstered furniture are treated with a repellent material that protects the fabric from stains, odours, liquids and other nasties that can do damage. When buying furniture, ask whether it has been sealed with a protector. If it hasn't, ask if one can be professionally applied.
We use the Maxigard multipurpose protector for day to day use. It is a leading brand in fabric and leather protection and has both repellent properties and soil retardant characteristics.
Vacuuming
If you want to keep the condition of your furniture, the best way to do that is to introduce a weekly vacuum into your maintenance routine. If dust and dirt sit too long on the fabric, it can mix with body oils and perspiration and embed itself into the fibres.
That's how soiling occurs and it can really impact on the visual appearance of furniture. It is particularly important for bright and pale colours, as they often gets dirty quicker than darker fabrics.
Spot cleaning
No matter how much regular care you give your upholstered furniture, accidents are going to happen. A glass or wine or a cup of tea (both of which stain very quickly because of the tannins in them) is going to spill on it.
To avoid it staining, blot any spills immediately with a paper towel. Blotting helps soak up the liquid, while rubbing it can actually cause it to spread and sink into the fabric.
Familiarise yourself with the manufacturer's instructions before using any product for spot cleaning, as it will inform you what sort of cleaner is best for that material. Apply the cleaner with a soft brush in a circular motion – this will help it work into the fibres, where the stain will be.
Pets
We love our pets, but they are not the cleanest of animals. In their adventures, they can bring in a lot of dirt and 'odours' (e.g. rolling in something dead). This makes it very difficult to keep your furniture looking and smelling its best – especially if they're fond of curling up on you when you're on the couch!
As well as regular cleaning, the best way to stop your furniture being covered in fur and smelling 'doggy' is to provide them with a pet cushion or a blanket for them to lay on.
A full proof way is to train them not to get onto furniture in the first place, but a lot of us love having them on our laps.
Professional cleaning
It's not a bad idea to get a professional in to clean your upholstered furniture every few years. This prevents dirt being embedded deep in the fibre, When this happens, it becomes harder to restore it to its original condition.
If all else fails then then be sure to enquire about our furniture restoration and repair services.