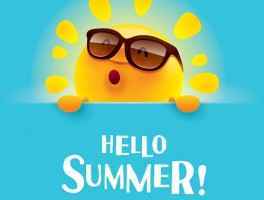 Summer is finally here. Now is the time to get out and enjoy warmer weather.
This season is all about change, whether it is physical or mental change, one thing is for sure, summer is a happier time as the winter hibernation period officially ends. They say change is as good as a holiday, and one of the first things people do is change their surroundings. Home decor is one of the first transformations.
Let's take a look at some of the simple adjustments you can make to your outdoor area so you can enjoy the sun this summer.
Plants are your friends
Springtime is all about pretty flowers and plants. Use the new season to exercise your green fingers and make your garden look picture perfect. With your garden now looking ready for a magazine photoshoot rather than a windswept mess, it will make you want to spend more time outside. It is also a good idea to purchase pot plants to incorporate on your decking or patio area. Doing this creates a natural flow between your home and garden.
Great lighting never hurt
Just because it's summer, doesn't mean it doesn't get dark. Ensure your outdoor lights are all in working condition so you can enjoy longer evenings outside. Warm-tone lighting is great for your energy bills and it brings a welcoming feeling to your guests, who will now enjoy spending evenings in your garden.
Outdoor furniture
It's vital to get your outdoor furniture sorted before the new season really sets in. From day beds to lounge chairs, Bali huts and tables, you need these pieces of furniture to create an enjoyable outdoor entertaining experience. If you already have outdoor furniture but it's a bit worn and took some strain over winter, then why not opt for reupholstering? You can save money by reupholstering your furniture instead of buying something new. Since it is outdoor furniture, you also need to take into account the type of material you use. Ensure the new material is outdoor friendly and that it complements your current décor. This type of furniture works best in neutral, classic tones and simple patterns.
Tip: Ideal materials to use for outdoor furniture include vinyl, hard cotton, synthetic materials, acrylic and flax or bamboo. Be sure to have your furniture reupholstered by an expert who is knowledgeable about different fabrics and trends in the industry.
Bring out the accessories
This is the perfect opportunity to dress up your outdoor area. After a drab winter, give the space some colour and life with accessories like scatter cushions, throw-blankets for cool nights, vases and plant pots. It's recommended that outdoor furniture be covered in neutral tones allowing your accessories to stand out.
Spring is on the way. Get your outdoor furniture and poolside seating reupholstered in time for enjoying the outdoors. Contact the experts at Argyle Furniture.