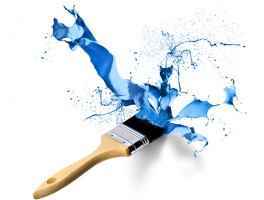 Give your furniture pieces a one-of-a-kind look by painting it yourself using a unique method
You may think that the splatter painting style was invented by a 4 year old, but you'd be mistaken. As part of the Abstract Expressionist movement in the 1940's, artists began splatting and dipping paint on canvases as retaliation to art censorship during the world war. This form of art became increasingly popular because it was fun, easy and original.
Make a statement by putting your works of art on your furniture instead of your wall! Don't worry, you won't have to go around splashing paint all over your furniture; simply follow the easy steps and let Argyle Furniture Designs cover any items with your unique artwork.
What you need
Splatter painting is a big, messy job – so it is important to make sure that you have all the equipment ready before you start. First, you need to get a piece of material big enough to cover the item of furniture you want refurbished. We suggest you do this outside or in an empty garage where you won't be able to damage other valuable furniture. You can purchase any strong cotton fabric, polyester or even hessian for outdoor furniture.
Depending on the kind of splatter effect you want, you need to get the right sized brushes. Heavy, wide brushes will make bigger splatters, as these can carry more paint and vice versa. One brush is sufficient, and if you're planning on making this a fun family activity, one brush per person is enough.
Of course, you need paint, and lots of it in various colours. Bunning or Masters has a wide selection to choose from but first focus on the colours you are going to use otherwise you could be there all day.
Start painting
Once you have all your equipment and you are dressed in old clothes that you don't mind messing on, it is time to start painting! Try assigning one painter per colour so that there is consistency. If you are undertaking this project alone, do splatters of each colour at a time.
It's simple, just dip the brush and make a whip motion with your wrists to allow the paint to splatter onto the material. The closer you are standing to the material, the larger your splats will be and vice versa. Make sure you have a varied amount of colours and splatter sizes for a great piece that will look good when covered on any sized furniture.